This two-days laboratory training is developed in close collaboration with Episkin Academy which will host the training in Lyon, France.
The training will start with 0.5 day lectures and will be followed by 1.5 days of practical training (Hands on-training). Registration fee includes training cost, booklet, catering, shuttle service from the hotel to Episkin and social dinner.
Altertox Academy Master Class targets advanced-expert participants to deepen their knowledge about applications and models in the context of CLP, biocompatibility and risk assessment. The participants pick their interest "à la carte".
The size is limited to 5 participants.
Over the two days, participants will go through
i) expert talks on future of tissue engineering,
ii) 2h-personal counselling with Episkin experts to discuss participant's issues and
iii) laboratory practices "à la carte" picked by the participant on all the applications and models in Episkin portfolio listed in the image below. A maximum of 3 to 4 activities can be picked by the participant.
Please click and fill in the questionnaire and send it back to nathalie.belot@altertox.be . It will allow us to develop your individual "a la carte" agenda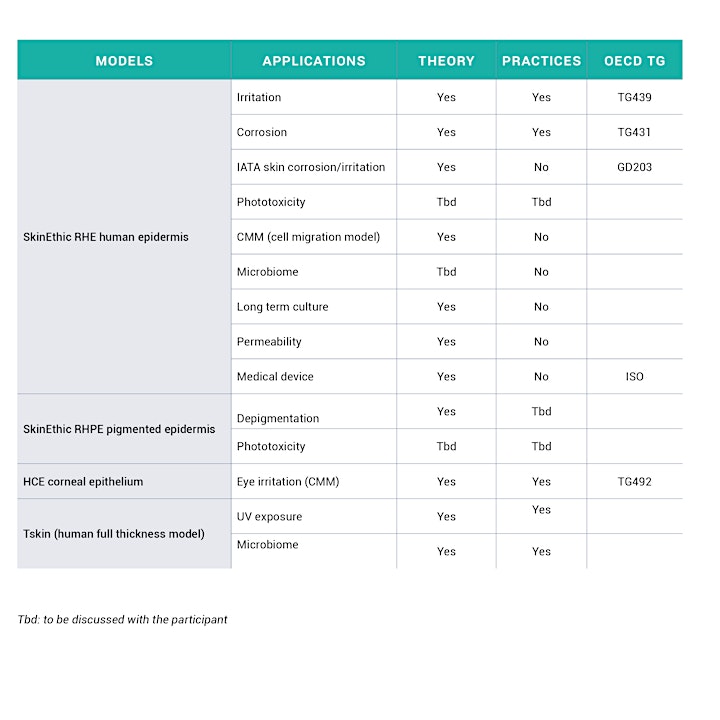 FAQ
What's the refund and cancellation policy?
Refunds are available only if Altertox Academy cancels the event. This is stated on the participant's receipt once registered. However, tickets may be transferable if the ticket holder is unable to attend the event.